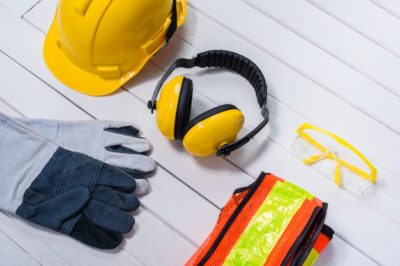 ATOM LOGIC recognizes that nuclear technology is special and unique. Safety is our top priority in everything we do. ATOM LOGIC's philosophy is that safety is our highest priority and all injuries are preventable. We recognize that our business is built on the talent of each member of the ATOM LOGIC team and therefore we must do everything possible to ensure their safety.
The safety of our team will never be compromised by financial or schedule demands. Working safely with constant focus on accident prevention and occupational health processes is the most efficient way to protect our business. It is the best way to safeguard our employees and communities in which we are located. ATOM LOGIC ensures its employees are trained in the proper use of PPE.
Excellence in Safety is an outcome of excellence in Human Performance. Effective use of human performance principles and tools prepares us to consider all aspects of the job to ensure success. The ATOM LOGIC team has internalized the tools described in INPO 05-002 Human Performance Tools for Engineers and Other Knowledge Workers.
Technical Task Prejob Briefing
ATOM LOGIC was started in 2013 with the goal to provide the highest quality digital I&C engineering services in the nuclear power industry. The team at ATOM LOGIC has unmatched experience implementing digital I&C systems in nuclear power plants around the world. ATOM LOGIC has established a reputation of producing high quality products. We know that quality documentation is the key to a successful nuclear power project.
ATOM LOGIC is located in Solomons, Maryland within Calvert County.
ATOM LOGIC is owned and operated by Michael Soroka. Michael started ATOM LOGIC on the basis that digital projects are unique for the nuclear power industry and clients want an engineering team with a track record of executing successful projects.
Michael received his bachelor's degree in Computer Engineering from Virginia Tech. Michael is a licensed professional engineer, a Certified Procedure Professional from the PPA, a member of ANS, and an IEEE Senior Member.
Michael understands the importance of a healthy nuclear safety culture through his exposure to significant industry events. Michael was on the team that designed, installed, and commissioned a leak detection system at Davis‐Besse following their corroded reactor pressure vessel head. He was also in the control room, under tremendous regulatory and industry oversight, assisting with physics testing the first time Davis‐Besse went critical after the industry event. Michael can share stories of his time at Chernobyl and the surrounding exclusion zone.
When Michael is not working, he can be found playing with his dog or relaxing with friends.